Elite Andalusians are very proud to present their team of wonderful horses.  Making everyday that little bit more special.
Quis quilloso XVIII ("Quis Qui")
Quis Qui, also known as "Elite Andalusian's Unicorn" , is a PRE stallion born in 2003 bred by Fomento Ganadero Extremeno S.A.  1.66m in height.  Bloodlines originating from Terry, Francisco Ddez. Daza and Fdez Cordoba, Miguel Angel de Cardenas and Yeguada Militar.  Started in a Vaquera manor he has been re-schooled by S-J.  Has been with Elite Andalusians since 2011.  Quis Qui has a loving but slightly revolutionary character.  He feels every rider should know how to ride correctly.   A great teacher and very precise.  He will help each student with liberty and high school movements………but, only if ridden with the upmost respect.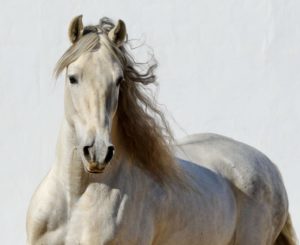 Beleño X
Beleño, is a certified graded PRE stallion born 2006 standing at 1.64m.  Our "grey beauty" was bred by Yeguada Vela Hernandez. For a decade this important stud bred some fantastic horses with exceptional bloodlines.  Due to health reasons the stud had to be given up.  Elite Andalusians was very lucky that we had the opportunity to continue with their unique lines.  Beleño, is stunning, has a very fun character and expressive movement.  His bloodlines descend from Miura, Yeguada Militar and Jose Luis de la Escalera de la Escalera.  He is a horse that will run from "dusk until dawn" with ground moving movement.
Beleña VIII
Beautiful Beleña is Mother of Beleño.  Bred by Yeguada Vela Hernandez with Terry bloodlines.  A very important mare for the continuation of the original PRE.  Born in 1997, Beleña was always used as a breeding mare until last year.  She has produced a number of stunning foals.  At fourteen years we backed her to which she took to very easily.  Today she enjoys life with her daughter Torera.
Torera LXXV
Our very exciting future prospect.  Born March 2010 Torera is daughter of Beleña.  Her sire was a stallion called Echamer who sadly passed away in 2011.  Echamer won many awards as a certified stallion for conformation and movement.  Including three time winner of the Gold award in Cordoba.  Her great, great grandfather was the famous Yeguada Militar stallion Remache.  Born in 2010 Torera has amazing balance, beautiful movement and with her sweet nature we are starting the base riding work.  She is a tall mare measuring 17.1hh and due to her huge growth we have waited until recently to start riding her.  She is named after Torero for the great job he did of being Godfather and educating her the ground rules when she was weaned from her Mother.  They were great buddies and in the field inseparable.  She is the only other horse that he ever allowed to share his feed bucket.
Naranjito "Little Orange"
Naranjito has been with the team since 2012.  A lusitano cross gelding with a happy go lucky outlook on life.  Just under 15hh with Baroque build.  He is an excellent horse for lessons and gives riders the real feel of a naturally elevated carriage.
Uridor XXII
Our beautiful seven year old gelding who came to us having only been sat on twice a year ago.  Original bred for driving his stunning movement has made him an ideal horse for lessons.  As you see in the photo he is the perfect horse for all riders to teach the great basics of a dressage horse.
Bodeguero Salvatella
Born 2012, PRE Bodeguero arrived in May 2015 and is doing very well in his training.  He has super gentle nature with a heart of Gold.  Standing at 1.67m at the moment he is developing into a very elegant horse with super movement.  He has a very playful character and loves to be the clown.  With his exceptional movement we hope to compete him this year.  He is a great horse for lessons to teach how correct training allow the horse to have the softest of movement when ridden.
Baghira
This wonderful black PRE mare born 2003 came to us in July 2015.  She had not been ridden for two years and was gradually brought into work to build correct muscle.  She is fast becoming a favourite with our students.  An angel with a pure sparkle in her eyes.  A true war horse ready to carry you to battle.
The Woofers